"I have had these rod socks from Upgrade Fishing for almost a year now and absolutely love these rod socks. They are well constructed, cut to the proper length, and are made out of quality material. I invest a lot of money in quality rods and want them protected. I have not had a single one tear, rip, or come apart. The fact they are available in multiple colors is a bonus and adds the "bling" effect matching my boat color. All this at an extremely reasonable price point as well! Definitely recommend it to anyone needing a quality rod sock to protect their investment!"
Upgrade Fishing makes the best rod cover in the game, period. They eliminate line tangles and damage when in my rod locker and the quality is top-notch! By using Upgrade Fishing rod covers, I can remove the rod holder in my box and put double the amount of rods in my boat without the fear of damage. The weave of the rod cover material is really tight and helps keep the line guides from popping out like cheaper options I have tried in the past. Worth every penny!!
About Us
Hey there! We are Jason and Sydney, the owners of Upgrade Fishing!

Fishing has been our passion since we picked up our first rod and reel. We have had the opportunity to fish from the rivers of Africa to the seas of Alaska and everywhere in between. Fishing has been therapy for Jason since his honorable discharge from the United States Marine Corps.
We now are involved in several regional tournament trails and enjoy our time on the water. Our time pursuing our passion as anglers has taught us to appreciate quality...and that is our goal at Upgrade Fishing...to provide quality products to the fishing industry.
Semper Fidelis
View Our Rod Covers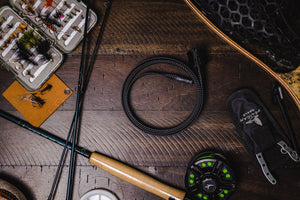 Casting Rod Cover
Sale price Price $8.00 Regular price $12.00 Unit price / per
ELEMENT Series
ELEMENT Frog Rod
Sale price Price $130.00 Regular price Unit price / per
Made in the usa
Authorized Cashion Rod Dealer
We are proud to be an authorized dealer for Cashion Rods. The Cashion mission is to create American-made Cashion branded and OEM fishing rods with uncompromising value and durability that are delivered to our customers with the highest level of customer service.